All plans come with a


30-day Free Trial




No Credit Card Required

Lightning

Thunderstorm

All Plans Include:
Invoicing
Bills and expense tracking
Double-entry bookkeeping
Contact Management
Inventory Management
Standard Financial Reports
Cash Management
Online Company Profile
Customizable Business Dashboard
Data import/export
Firewall protection, SSL Encryption, data backups
Number of Users Who Can Access Your Account
1
Unlimited
Banking and Credit Card Account Integration
Premium Reports and Accounting Package (what's this?)
Payroll Service with Business Online Payroll* (what's this?)
Email Marketing with Vertical Response* (what's this?)
Premium Features:
Number of Invoices Per Month
Up to 10
Unlimited
Recurring Invoice Plans
Tax Reports
Collect Invoice Payments with PayPal
*Additional fees may apply.

Lightning

Thunderstorm
How does the Free Trial work?

Your Free Trial lets you use all the features provided by the WorkingPoint plan you select. During the Free Trial period you can change to any of our plans without paying, or you can cancel at any time. When the trial period expires you will be asked to provide your credit card information and make your first monthly payment, or you can cancel the service.

Can I change plans at any time?

Yes. If you want to change plans, click the Manage Account link on the Settings page inside WorkingPoint. You'll see your current plan and a link to change your account plan. Select the new plan you want and we'll make it effective immediately.

What types of payment do you accept?

At this time, we only accept online payments with Visa or Mastercard. We do not accept American Express, PayPal, or check.
Do I have to sign a long term contract?

No. WorkingPoint is a pay-as-you-go monthly service so there is no long-term contract for you to sign. You can change plans or cancel at any time. If you cancel we do not offer any refunds or prorate partial months of use.

Are there any extra fees?

There are no signup, cancellation or hidden charges. Certain features—marked above by asterisks—carry additional charges. However, these features are opt-in and you will only be charged if you choose to provide billing information for each feature specifically.
Payroll Service with Business Online Payroll
WorkingPoint, in partnership with Business Online Payroll, delivers full-service online payroll at affordable prices. Focus on growing your business, not administering payroll.
Save up to 50% compared to traditional payroll models.
Calculate wages and deductions.
Deduct, deposit and file all federal, state and local taxes. Tax compliance accuracy guaranteed.
One-click technology with the ability to adjust employee hours and pay rates every pay period.
Preview payroll online before processing, so you know it's accurate.
Access payroll reports online and export them into a format that best suits your needs.
Access fully searchable online help or speak with a friendly, U.S.-based payroll expert.
Pay your employees via direct deposit or print checks in-house.
Your employees will enjoy:
Direct deposit or manual checks—their choice.
Emails notifying them they've been paid.
Secure online access to their individual pay stubs and payroll history.
Use of Business Online Payroll services is available to WorkingPoint Premium Subscribers for $49.99/month for up to 10 employees. For each employee over 10, there is an additional $1.50 per employee processing fee.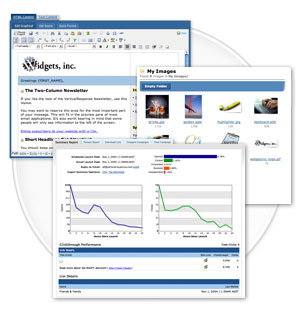 Emailing Marketing with VerticalResponse
VerticalResponse is one of the largest and most trusted email marketing providers online. Their service is used by thousands of small businesses and freelancers to create self-service email marketing, online surveys and direct mail campaigns.
As a WorkingPoint Premium Subscriber, you will receive 500 free email credits when you sign up for a VerticalResponse account. To redeem your credits, simply signup for WorkingPoint, log in and look for the Free Email Credits widget on your Homepage Dashboard. When your 500 free credits have been used, additional credits may be purchased from VerticalResponse directly.